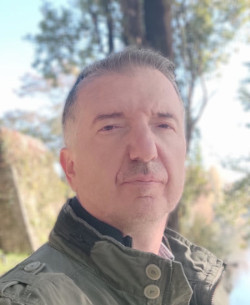 I work as a professor of Computer Science and Software Engineering at the Faculty of technical sciences, University of Novi Sad.
When I was a kid I got struck by a passion for programming and computers in general. That passion never left me.
Nowadays I am particularly interested in Domain-Specific Languages and Model-Driven Engineering. I strongly believe that the future of programming is in languages fit for the purpose, with both abstract and concrete syntaxes fully aligned with the domain. I always strive for simplicity - simple tools, simple processes.
I am user, supporter, and developer of Free/Libre Open-Source Software. Some of my FLOSS projects are described here. Check it out at github.
Some of my research is listed at my university page.
To contact me follow social links/icons on the left.
OpenPGP info
Key ID: 0x40E22A6D
Fingerprint: 0481 C23F 822A 62D0 A755 51EC A508 E264 40E2 2A6D
-----BEGIN PGP PUBLIC KEY BLOCK-----





mQENBFfabjsBCADdJiIulepY6rffXr2A2DGP9W3sMhpxuk76gVArI4ifIexZEA/B


so+36aAzKmTPJFKlkJd2O4ScY5EEQT7X9dWtOIYw3nVqD9nePLTVI7DYV/vSJk0s


Kq0qLhduOga4CdFq7ypeoELIfNdrUWdSP7xCZzBkuoReF4r8IXpxemzBhL75nTJv


oVM+JGlW5aQrXpD7N7+9Krx7PHXejKec2O+bwamKDK0JQWbmnl60XHFQxtl3tzUM


bXuYK/S29u22udA4ReNuI60xgrzcNqutE+oC8AN967bH8Y2rcLzj6IfJFreOVKD8


IxwDSLaoui62zBfc8svIxQ5BZUBWXUmWtrE1ABEBAAG0KUlnb3IgRGVqYW5vdmlj


IDxpZ29yLmRlamFub3ZpY0BnbWFpbC5jb20+iQE3BBMBCAAhBQJX2m47AhsDBQsJ


CAcCBhUICQoLAgQWAgMBAh4BAheAAAoJEKUI4mRA4iptiRUH/3MG5FJSNWB1WUf1


GuqpofWjaResTnqBXrfgWYO4RE4Zlq7658YoV8KopoawQ9gRpunzFwt54h9eyXJ2


rS7rKmSnuxT8++XS0hJUVCETVItuGuZO2o5aKE0viVgLwujQtQnfcSKFe2vgoNNJ


bW4gq99qq5HEi0O7ur3GEnMH09oPuK4JmXMgccYuJ5typIbL5I9IRC3EO1c/VsCH


b/9V/hV4ClhDInlT3Oqd+D5YK3OG7e6JXEUeTpGidr/ZYZ/UAjiJ6yj1JjUm7F25


PZ386aeNYHJdA3k3gnIel8Nu7eVCfpdFqVLO9ASwWHvAOqBZOxjtDM3wGJq5433j


hiInk1m5AQ0EV9puOwEIAOrpbLKuTFbUbKBjqnIdIFO57FD/3URuGw7sMtjGrNJd


WrTDYtGBhNJtmp+i8Ia6EwnLVOHEkteQ9j+LiFr33/X3IpLUkYGW8GzHjin9+uWF


pMzzqj/NQ/Ut927bYtEquwrlPAI7vLmQnlEZx4Oi5MwgsUH3DXsKXE2XS4fmLXwz


NuMM54ioL+ZzTns3T3ay+qXh/yNHQ/aKxo4CURjEHShEzJx8I5GdyRmRTXiVIfKf


HBVPPR26ibDSfY9mQiVEN1fcxQjNYZLbuBf31JjODMPkqqgoWe/gZ04wMZB3vz0V


/WP+f2HnYKL1+XNan2d+bJzju60+YYOD92qToGV5yKsAEQEAAYkBHwQYAQgACQUC


V9puOwIbDAAKCRClCOJkQOIqbTJgB/4kok0mmGwf0YDNTC9uO0BrtOAng9mMTU2B


S2OenYpfNkzMptQdwpuNDsGWTt+IeFYBu8IpVkDebhCBlGpQAPZY/CHQvT5UgmqZ


Nmkjqt4uWU956vVhQq3fIH4ZoQ81zSDD8W+ZkM1DD7pmMTvuirJ7p3/DkyKtb55U


HJxwFQKoHsIoQinje35Hy+lToN7rflD0d6DXwfR/9W6rKu+QWVBYQ5+BaSMft9OL


p7IzcuMDOEB1b3Nfw+9T/o/ybcpfsT25sspyZ3cXiH1NQ5GQHBVmEMEltDtE7ETT


v5xBR3eULRG/s5YufU84oAZ4Xf1DEFrF/kcVw4VEfK8/LY/+vvBm


=frLo


-----END PGP PUBLIC KEY BLOCK-----